Today is the 1st day of May and there are so many wonderful books that will release this month. Here is a list of my MUST READ for May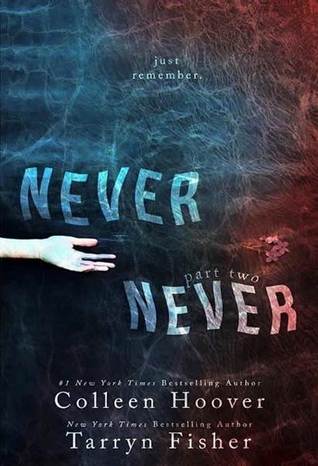 Never Never 2 – Colleen Hoover & Tarryn Fisher (5/17) – If you haven't read part 1 then you need to. Enough Said.
Beautiful Sacrifice – Jamie McGuire (5/31) Falyn Fairchild can walk away from anything. Having already left her car, her education, and even her parents, the daughter of the next governor of Colorado is back in her hometown, broke and waiting tables for the Bucksaw Café. After every shift, Falyn adds to her shoebox of cash, hoping to one day save enough to buy her a plane ticket to the only place she can find forgiveness: Eakins, Illinois.
The moment Taylor Maddox is seated in Falyn's section at the Bucksaw, she knows he's trouble. Taylor is charming, breaks promises, and gorgeous even when covered in filth—making him everything Falyn believes a hotshot firefighter to be. Falyn isn't interested in becoming another statistic, and for a Maddox boy, a disinterested girl is the ultimate challenge.
Once Falyn learns where Taylor calls home, everything changes. In the end, Maddox persistence is met with Falyn's talent for leaving, and for the first time, Taylor may be the one to get burned.
The Friend Zone – Kristen Callihan (5/5) Gray doesn't make friends with women. He has sex with them. Until Ivy.
The last thing star tight-end Gray Grayson wants to do is drive his agent's daughter's bubblegum pink car. But he needs the wheels and she's studying abroad. Something he explains when she sends him an irate text to let him know exactly how much pain she'll put him in if he crashes her beloved ride. Before he knows it, Ivy Mackenzie has become his best texting bud. But then Ivy comes home and everything goes haywire. Because the only thing Gray can think of is being with Ivy.
Ivy doesn't have sex with friends. Especially not with a certain football player. No matter how hot he makes her…
Gray drives Ivy crazy. He's irreverent, sex on a stick, and completely off limits. Because, Ivy has one golden rule: never get involved with one of her father's clients. A rule that's proving harder to keep now that Gray is doing his best to seduce her. Her best friend is fast becoming the most irresistible guy she's ever met.
Which means Gray is going to have to use all his skills to get himself out of the friend zone and into Ivy's heart. Game on
Mended – Sydney Landon (5/28) Book 3 in the Lucian & Lia Trilogy. Lucian finally shares his past heartache and guilt with Lia. Free of the shadows that have haunted them, they are ready to move forward together.
Until…the woman who destroyed Lucian's life eight years ago is suddenly free. Lucian is in a frantic race against time to convince those around him that Cassie is the ultimate threat to all that he holds dear. He'll stop at nothing to protect the woman he loves even if he has to wage a war against his best friend to do it.
Conviction – Corrine Michaels (5/27) I fell in love with Liam only to be left shattered into a million pieces. Again. The idea of being without him cripples me but the reality is, he's gone. He doesn't understand and I can't make him. If only he'd see the conviction behind my words—then Liam would still be here.
Black Rainbow – J.J McAvoy (5/15) After an erotic one-week fling with a musician she meets in a bar, Thea Cunning never expects to see Levi Black again. Then Monday morning comes around, and she discovers that her former lover is not only her professor, but he's also one of the top criminal lawyers in the state of Massachusetts.
With everyone in class vying to be one of the twelve disciples—a group of twelve students that Professor Black takes under his wing—tensions run high. Thea considers dropping his class, given their passionate week together and their undeniable chemistry. After all, there are other (less infuriatingly sexy) law professors on campus.
But to accomplish her goal and get her father out of prison, Thea knows she needs to learn under the best of the best—and that's Levi Black. But can she learn under the best, without being under the best?
The Gentlemen Mentor – Kendall Ryan (5/5) He calls himself the Gentleman Mentor. Just reading his ad makes me feel more alive than I have in years. He promises to teach me the art of seduction … and show me the most sinfully erotic pleasures. He's going to help me become the kind of confident, sexy woman men can't ignore. Six lessons … with the most gorgeous man … who happens to be a Dom. The only problem … now that I've experienced his brand of delectable domination will anyone else ever compare? She's a client. That's all. Or it should be. But with every lesson, she's becoming more. The secrets I'm hiding behind the image of the Gentleman Mentor make telling her the truth—and having anything real—impossible. I'm training her for another man, and that fact guts me every time I think of it. I know she's not mine … but part of me won't accept that. Am I willing to risk it all to keep her?
21 Stolen Kisses – Lauren Blakely (5/26) When I first met him I resisted. Like any forbidden love, I told myself he was a crush, and it would pass.That was a lie. It never faded. And I never expected he would fall for me just as hard.
There were so many reasons that should have kept us apart, least of all, the decade that separated us. Growing up in New York City, I learned early on that love is a double-edged sword. Love broke up my parents, love took away my friends, and love — the big, intense, never-been-like-this-before love — landed me in therapy. Now I'm heading to college, and it's time to give love a clean slate again. But, can I really start over when he's still in my life Because the one man I've always wanted, is also the only guy I absolutely can't have…And he wants me just as fiercely.
Can I settle for anything less than the love of my life?
Escaping Reality – Lisa Renee Jones (5/5) His touch spirals through me, warm and sweet, wicked and hot. I shouldn't trust him. I shouldn't tell him my secrets. But how do I not when he is the reason I breathe? He is what I need.
Something Wicked – Teresa Mummert (5/26) Gabby plays a very dangerous game…
Drake is eager to teach her the rules.
Gabby wants nothing more than to be an author, but she is stuck working for a magazine that she despises. When she is tasked to interview an actor at a movie premiere, she reluctantly sets off to do her job. Drake doesn't make it easy for her and she lets her frustration get the best of her. She is soon thrown into his world and in over her head